Main RFID-based applications for the Internet of Things
The RFID technology is pretty known as the best way to trace things, animals and people individually, that is to say, one by one, and all of them in batches at the very same time without a direct line of sight. However, RFID technology also plays an essential role in the Internet of Things (IoT) that we describe in this article.
What is the Internet of Things
The Internet of Things is a network of devices that exchange data over the internet. These devices are equipped with electronic components that allow them to collect data, communicate, be remotely controlled, and other functions designed according to the needs of the system. The advantage of the IoT is that it takes advantage of existing Internet protocols and infrastructure. Thus, truly integrated systems are achieved in a global whole.
RFID-based IoT applications
The RFID tags, antennas, and readers are used in IoT together with cameras, GPS, smart sensors to locate and identify objects. The main RFID-based IoT applications are listed in the figure below: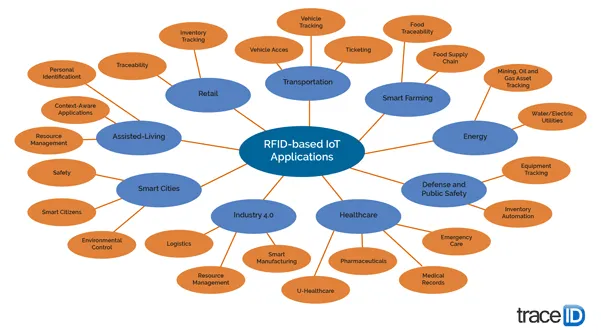 Main RFID-based IoT applications figure
Figure: Main RFID-based IoT applications. Source: Note 2The list is huge, but the RFID applications in IoT most common and known are:
1.      Industrial Internet of Things (IIoT)
IIoT works in the same way as IoT but in an exclusively industrial context. This is the so-called Industry 4.0 that is spreading at a certain pace and that is already showing abundant financial benefits.
2.     Transportation/Mobility
It's the second-largest IoT application area in 2020. Nowadays, all car manufacturers are developing smart vehicles that allow better control of traffic and the best energy efficiency with driving comfort.
3.     Smart home
RFID tags are an economical way to make that home objects smart. As an example, with a smart washing machine that can read the RFID tags in clothes, you can automate the proper washing cycle and dry it. As another example, if you have an intelligent fridge and pantry, you can forget to control what food is finished, they are equipped and connected to do the shopping list and even do the order.
4.     Retail
Retailers can improve their cost-efficiency and in-store customer-experience thanks to IoT applications.
5.     Health care
Thanks to RFID tags patients can be tagged to automate control of personalized medication and treatments. They are used too to control mobility inside health facilities.
Not as easy as it seems
Still, despite the popularity of the IoT and RFID, many developers report system security vulnerabilities. This vulnerability is the ability to clone RFID tags and devices or reproduce signals and protocols. Such vulnerabilities allow attackers to access services and facilities, obtain or alter personal information, and even track users.
Another issue is about communications between tags and readers, that are inherently susceptible to electromagnetic interference. Simultaneous transmissions in RFID lead to collisions as readers and tags operate on the same wireless channel.
But these problems have solutions, there are already chips with anti-collision features on the market, such as the IMPINJ M700 series that you will find in our latest RFID tags. For safety, you always need to have expert engineers. Do not hesitate to contact us for more information.
Sources:
1. Micah Soto, What is RFID? What role does RFID play in IoT devices?, TipsMake.
2. Tiago M. Fernández-Caramés, Paula Fraga-Lamas, Manuel Suárez-Albela and Luis Castedo, Reverse Engineering and Security Evaluation of Commercial Tags for RFID-Based IoT Applications, Department of Electronics and Systems, Faculty of Computer Science, Universidade da Coruña.
3. Xiaolin Jia, Quanyuan Feng, Taihua Fan, Quanshui Lei, RFID Technology and Its Applications in Internet of Things (IOT), School of Computer Science and Technology, Southwest University of Science and Technology, Mianyang, China, School of Information Science and Technology, Southwest Jiaotong University, Chengdu, China.
4. Padraig Scully, Top 10 IoT applications in 2020, IoT Analytics.
5. Header photo by Brett Jordan on Unsplash.




We hope the article has been useful.
Contact us for more information focused on your needs. If you wish to receive information about RFID technology, subscribe to our magazine.