WHY YOU CAN'T AFFORD NOT TO HAVE AN RFID SYSTEM
What is an RFID System and why I need one?
An RFID system is a radiofrequency identification system that allows the best management of assets of a batch, one by one simultaneously, and in real-time. The main feature of this kind of system is the wireless transfer of data through radiofrequency waves between RFID tags and RFID devices.
The problems you might be suffering despite they have a solution
Whether your business is about retailing clothing, whether is about industrially manufacture products, you confront issues that an RFID system can solve, for example, by tracing the products or making possible industrial automation processes. Some could be the following:
Are you an apparel retailer and you need to fight the fake products that supplant yours in the markets?
Do you need to have an effective anti-theft system for the jewels you commercialize?
Is it necessary to have the inventory updated minute by minute for the good working of your e-commerce?
Do you need to real-time locate your containers while they are moving around the world?
Is it mandatory to be able to control each one of your food products for sanitary rules?
And a large number of situations where the traceability and individual identification of items, machinery components, people, or animals is crucial for accurate, safe management.
A solution to solve them all
The solution for many of the problems that nowadays businesses face is the implementation of an RFID system. However, it doesn't exist one RFID system but diverse RFID systems designed to satisfy different needs.
How is build an RFID implementation?
The creation of an RFID system starts with the analysis of the process, its issues, needs, and environment. The RFID system design gathers the software, hardware, and consumables that will work together. Finally, after building the deployment, personnel will need to be trained to learn how to run the system and how to take the maximum advantage of the new deployment.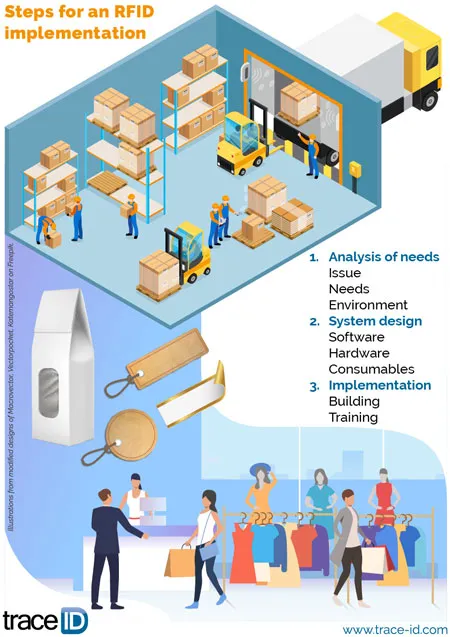 Steps of an RFID implementation
I can't afford to implement an RFID system!
All the work to implement a new RFID system is not cheap. It's a big effort for a company. However, it's also an investment that strengthens the future of a business at the same time has a very quick return.
How to quantify the necessary investment
To calculate the necessary investment for our RFID implementation we will consider at least these costs:
Cost of RFID system design.
Acquisition of physical devices (readers, printers, portals).
Acquisition of consumables such as RFID tags.
Acquisition of software.
System's setting.
Reorganization costs.
Personnel training costs.
All this is calculated in suppliers' budgets without any difficulty. But what about the profits, with which we want to not only amortize the investment but add them to our current annual profits? let's keep going.
In fact, you can't afford not to have an RFID deployment…
Calculating the profitability of RFID applications has the difficulty of quantifying predictive variables, such as how many sales do I lose due to stock breakage? How much money do I waste on products that will not leave the warehouse?
How to value the profits
Calculating the profits of RFID applications is much more complex. To calculate the profits resulting from our RFID implementation we will consider at least these returns:
Greater accuracy of inventory with less manual intervention, which means a reduction in working hours. In this section, we would calculate the time per item of inventory to know the total annual time of carrying out the inventory, and with that, we would obtain the cost of the manual inventory. Then we would compare it with the time of carrying out the automated inventory with RFID, and thus we would obtain the profit.
Avoid stock breakage. How can you calculate the sales you lose because the customer does not find your product on the shelf, on the web or you can not serve it on time? This is more complex to calculate. According to the study by Kurt Salmon for Accenture, the reduction of stock breakage with RFID is 40.6%.
Avoid losses, theft, misplacements, fraud. How much money do the unknown losses represent in your company? The money that you would stop losing while avoiding the unknown losses can be based on the historical inventory figures. Kurt Salmon calculated the reduction of the unknown loss by 33.7% in retail.
Reduction or elimination of surplus products. In the same way that we avoid stock breakages thanks to the speed and accuracy of the information provided by an RFID system; we can also avoid providing products that do not have as much output. How much money do the products that do not leave the warehouse mean in our company? We can have approximate figures thanks to the historical. The need to reduce surplus products so that they have output is reduced by 19.6%, according to Kurt Salmon study.
Increased response speed to orders. Do we lose sales because we can not respond on time?
More efficient shipments. Do we lose sales because they do not arrive or arrive too late?
When I Will notice the return on investment in an RFID deployment?
You will realize the return of investment as soon as you quantify the money you don't lose because the unknown losses, the human errors of manual work, and avoiding thefts and faking products; besides the gain of increasing sales thanks to avoiding the out-of-stock, reducing the surplus products, and improving customer satisfaction and loyalty. All these benefits thanks to implementing an RFID system!

Main photo by Micheile Henderson on Unsplash.
RFID system implementation infographic made by Trace ID using modified vector artworks from Freepik.
Improve the efficiency and safety of your processes and goods thanks to an RFID system
We hope the article has been useful.
Contact us for more information focused on your needs. If you wish to receive information about RFID technology, subscribe to our magazine.