The complete guide about RFID tags
Part II: The RFID tags applications
In the previous article, the first part of this Guide, we describe how RFID tags are manufactured. In the current article, we will briefly explain the main RFID tags applications. You can expand this information contained with our previous article: Where do you use RFID in your day to day life?
The information here explained is generic, but you surely already know that in Trace ID we customize the RFID solutions as much as possible. If you want more detailed information and guidance focused on your business needs, get in touch with one of our sales executives by writing to info@trace-id.com or by filling out our contact form.
The importance of correctly choosing the RFID tag according to their application
RFID tags can be very different depending on the specifications of each activity, obviously, it is not the same an RFID tag for a jewelry product, which is very valuable and small in size, that an RFID tag for RTU (returnable transport unit).
Most common RFID tags applications
RFID solutions are designed for the traceability of things, people and animals. Each type of business or activity will need different RFID systems, but in addition, each client may need a certain degree of personalization due to the characteristics of the environment and place where they develop their business or activity. Therefore, the most common applications are those described below, but in Trace ID we always take into account and offer a degree of customization appropriate to the specific need of each client.
Supply chain management
RFID for supply chain fully improves the global logistics chain and increases efficiency by automating the identification and tracking processes. The largest retail companies and their suppliers, currently, are already marking all their pallets, boxes and items with RFID tags. Among the most significant benefits of working with a global RFID system implemented are better customer service, faster billing, greater accuracy of shipments (with faster and more reliable deliveries), fewer stockouts. All these benefits result in the optimization of processes, the streamlining of documentation, cost savings and greater economic gains.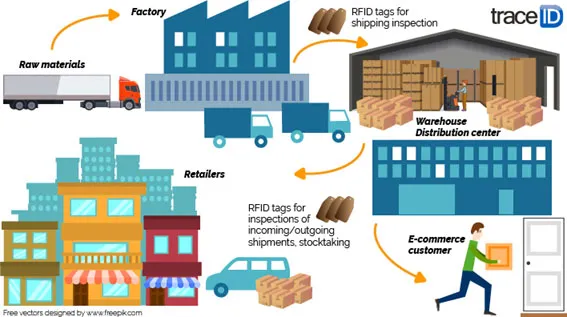 Supply Chain management with RFID
Retail
We had already talked about the benefits of RFID technology for greater customer satisfaction and to increase sales. To summarize, we will simply emphasize that thanks to RFID technology, we increase security in tracking items to avoid theft and loss, as well as to fight against counterfeiting. Also, thanks to RFID systems, the logistics between manufacturing, distribution centres and stores are more agile and effective. Of course, the effectiveness of e-commerce is also increased with a suitable RFID application. The sectors of retail where RFID technology has become essential are:
The fashion industry: clothing, shoes and accessories
Jewelry
Cosmetics
Trace ID has experience in all three sectors, and it is especially in RFID for jewelry in which we have more extensively been worked.
Health industry: hospitals
The health system needs applications and tools to make possible the management, safety and monitoring of assets and people in hospitals and between all the centres that integrate this system globally, from primary care centres to large state hospitals. It is for all these reasons, that RFID technology for the healthcare industry is an indispensable tool nowadays and that it will continue to grow and be implanted in depth.
The RFID for hospitals is useful, basically, to mark surgical and disposable tools for surgical use, which must be under a very precise control to avoid accidents or losses. Also for the control of patient and staff access to the different areas of the hospital, as well as for linking each patient with their history through the information stored in their RFID tag.
Access control
Companies, organizations and institutions need systems of access control and traceability in their buildings. For security and for the collection of very valuable information for the management of people in organizations. Access control systems are also used in hotels to lock doors and save energy.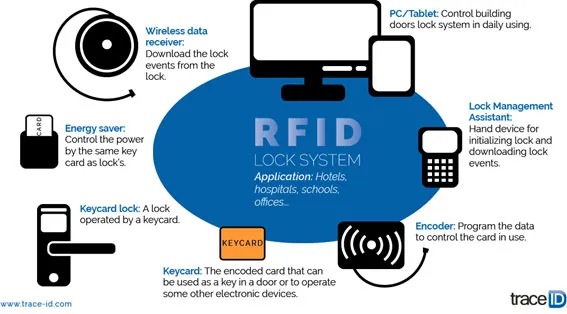 Example of an RFID lock system
Aviation and baggage control
The tracking and management of baggage in airports and air transport is easier, safer and more effective thanks to RFID technology.
Sports timing
Keeping track of the participants' timings in races and other sporting events is another of the most common ways to take advantage of the possibilities of RFID technology.
Libraries, files and document control
The management of libraries and documentation has traditionally been a very manual work managed unit by unit. On the other hand, when the books and/or documents are provided with an RFID tag that gives them a unique identification number, the tracking is more precise and effective, besides it is less tedious work since the system can read the identification of many units at a time, avoiding manual identification unit by unit.
Temperature control in the cold chain
The main concern of the food industry is the sanitary safety of the products, so the control of the temperature in the cold chain of the products is essential. In future articles, we will discuss the experiences of Trace ID as a manufacturer of RFID labels for the food industry, among which there is the development of a label with a battery for monitoring the temperature of a food item. But if your interest is focused on any solution within the food industry, do not hesitate to contact us.
The future of RFID technology
RFID technology has many challenges ahead and open paths to develop. Especially in the areas of better customer service in the retail sector, with the appearance of dual labels, which integrate a UHF antenna with an HF antenna, and in the sector of hospitals and primary care centres of the health system.
We hope the article has been useful.
Contact us for more information focused on your needs. If you wish to receive information about RFID technology, subscribe to our magazine.