Main frequency ranges in RFID systems
There are five main frequency ranges in which RFID systems operate. As a general rule, low frequency systems are distinguished by their short read ranges, slow read speed and lower cost. High frequency RFID systems are used when longer read ranges and faster read speeds are required, such as in vehicle tracking and automated toll collection.
This table provides examples of the use of different RFID frequencies. It is a guide and is not exhaustive, nor are the applications specifically and exclusively listed in that frequency.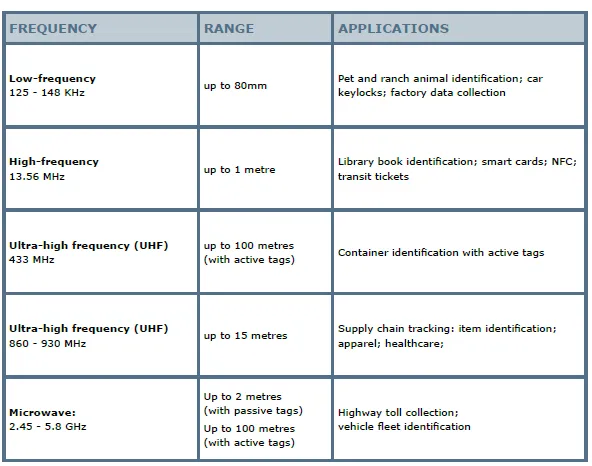 Tools to Measure RFID Performance of Identifiers
In the UHF band, RFID systems operate in the range of 860 to 930 MHz. This is a very wide band and it is because the frequency available for any application is controlled by radio regulations in the part of the world in which the system operates. For example, in the United States, the frequency and power are controlled by the FCC and are defined as 902-928 MHz at 4W of EIRP power (ERP and EIRP are defined later and are different methods of measuring power).
Traditionally, in Europe it has been 865.6 – 867.6 MHz at 2W ERP. The performance of these two systems is very different, as the European regulation controlled by the ETSI only allows for a much smaller band and lower power. Recently, RAIN and others have worked with the European Community to get more bandwidth and power for RFID. This has led to the space in the 915 – 921 MHz band being available in 2019. (See more information below).
The UIT Radio Regulations define three regions. Broadly speaking, they are America, Europe and Asia (see the map below). Other countries have also changed their original allocations for RFID, resulting in the original bandwidth used by systems dropping from 860 – 960 MHz to 860 – 930 MHz. GS1 has published a document listing all frequencies and power availability worldwide. It can be downloaded from here (https://www.gs1.org/sites/default/files/docs/epc/uhf_regulations.pdf).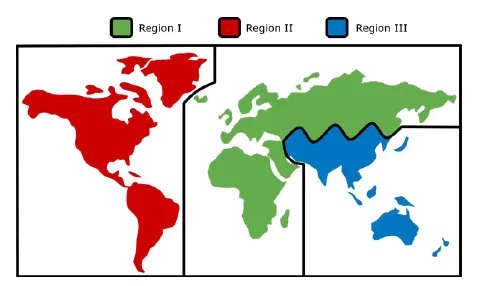 Tools to measure the performance of RFID identifiers
Download this article in PDF
Source of Information: Download PDF
We hope the article has been useful.
Contact us for more information focused on your needs. If you wish to receive information about RFID technology, subscribe to our magazine.