RFID Tags
At Trace-ID, we offer a wide range of UHF RFID labels with different reading ranges, ranging from 20 cm to 24 m.
UHF RFID TAGS CATALOG
It is important to note that these reading ranges are calculated in a "free-air" environment, meaning an ideal testing environment where there are no interferences from surrounding materials or the construction materials of the customized label.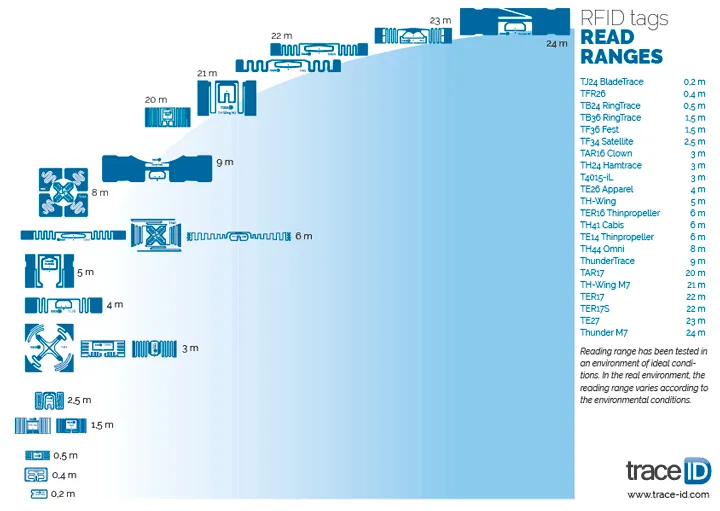 RFID tag reading ranges
LIMITING THE READING RANGE OF RFID TAGS ACCORDING TO DISTANCE
On the other hand, the RFID system can select which RFID chips to read based on their distance because the signal strength varies depending on the distance between the tag and the reader. This means that the middleware accepts or rejects the reading of an RFID identifier based on the signal strength received by the RFID reader. This allows for better item localization and minimizes interference.
In summary, our R&D team will guide you accurately in selecting the RFID label that will work most efficiently within your RFID system. Additionally, if you need assistance with implementing the RFID system, we can connect you with specialized engineering and consulting firms that meet your needs.
Trace-ID's customer service philosophy includes providing introductory support in the RFID industry. We connect knowledge and resources to achieve the best results for our clients.
At Trace-ID we offer a wide range of UHF RFID tag catalog with different reading ranges ranging from 20 cm to 24 m.
We hope the article has been useful.
Contact us for more information focused on your needs. If you wish to receive information about RFID technology, subscribe to our magazine.